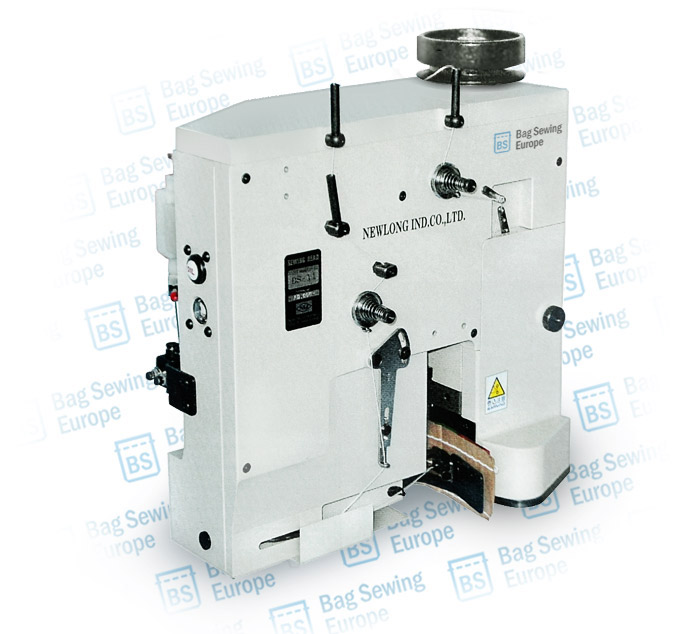 The Newlong DS-11 the ultimate Bag Closing Machine
Automatic swing needle machine
All Power driven feed rollers
Simular to Doboy D95
Revolution Speed reaches Max.2000rpm
Oil-Bath and Oil-pump system
Built-in Timing Belt for Feed Roll
Technical Specifications
Model
DS-11

Max. Speed ※

2,000rpm

Seam

Double thread chain stitch (Type 401)

Stitch Width

10.2mm

Bag Material

Paper ・ PP
Thickness
Paper bag 3P with a tuck
Cutter
Automatic crepe tape cutter

Needle

DN-H29 #26

Oiling

Oil bath ・ Oil pump
Oil
Tellus #32
weight
31.0kg
Feature
High-speed type of DS-7C

Continuation sending Upper & Lower Feed Driving Rollers

Related Machines
KS-1・KS-2 (

Kraft Sealer

)
※ depending on the sewing material and operation
Excellent choice when working with Multiwall Paper Bags. This machine is simular to the Doboy D-95 sewing machine but has enhanced features such as a lubricated Oil Bath. A Special designed single needle double thread chain stitch bag closing machine head with continuous motion feeding system for heat sealing. Equipped with pneumatic guillotine type crepe tape cutter.
Automatic swing needle machine specially designed to operate as an integrated part of sealing system. Features continuous motion feeding; the timed needle moves in epicyclical rotations as the bag passes through the sewing head.
All Power driven feed rollers ensure accurate feeding of the bag and avoid damage to the sack, which can sometimes be caused by a feed dog. Model Newlong Industrial DS-11 is equipped with pneumatic guillotine type crepe-tape cutter.
Revolution Speed reaches Max.2000rpm(Standard 1800 rpm). Oil-Bath and Oil-pump system. Bearing-used Revolution part for endurance. Built-in Timing Belt for Feed Roll for breakage of belt caused dust.