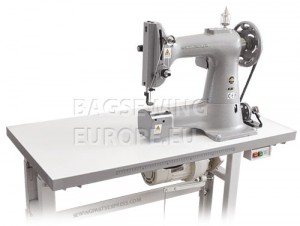 De DD5 zakkennaaimachine is de ideale keuze om spanbanden te maken. Zowel handmatig met tafel en motor setup of te integreren in een CNC systeem om strakke patronen te maken. Deze machine wordt onder andere gebruikt om banden van Big Bags aan de zak te maken maar ook het maken van Tie Rachets, Repareren van Big Bags en andere soorten heavy duty Spanbanden. Deze machine is vergelijkbaar met de uit roulatie geraakte Seiko SK-8, Singer 132k, 133k-18. 
Low cost, high performance machine om Web slings, looms, Tie rachet en andere soort banden op maat mee te maken.
Betaalbare Free Feed zwaar industriele Naaimachine
Ook te gebruiken voor de reparatie van Big Bags
Banden vastzetten aan Big Bags, het maken van webbing slings, looms, tie ratchet etc.
Deze zwaargewicht naaimachine kan geintegreerd worden in een CNC systeem
Heavy Duty Drop Feed Mechanisme
Verbeterd olie systeem
301 steek (shuttle)
Vraag een offerte aan. Klik hier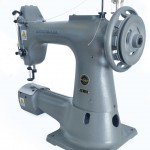 The Newlong Industrial DD-5 is excellent for making FIBC belts and Big Bag Belts and safety belts (Slings, Webbing Slings, Looms) either by hand or automated controlled by a CNC machine. The NEW LONG Industrial DD-5 is equivelant and compatible to some extend  with the  SEIKO SK-8, Seiko CK-8, Zeiko CK-1. The Newlong DD-5 is interchangable with the SINGER 132K, 133K model and Seiko Models. All parts of the DD-5 are the same as the parts for the Seiko SK-8, Seiko CK-1. Seiko SK-8 and Singer  132K, 133k-18 have been discontinued and taken out of production.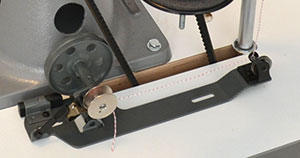 Gebruikt de bijgevoegde Bobbin winder om de spoelen te voorzien van draad. Installeer de bobbinwinder tegen de v-belt van de machine en prepareer uw spoelen. Als u meer spoelen wilt creeren voordat u een productie gaat naaien raden we u aan om een gemotoriseerde bobbin winder aan te schaffen die in combinatie kan werken met deze bobbin winder.
The Newlong Industrial DD-5 is the excellent replacement for the Seiko SK-8  and singer 132K, 133K. The Newlong DD-5 is a so called CNC Sewing Machine. Please quote us for our best price.
Threading a newlong Industrial DD5 Sewing Machine head
Model
DD-5

Max. Speed

※
1,500rpm

Seam

general sewing (301)

Stitch Width

Freedom sending

Bag Material

Jute・Container bag
Thickness
–
Cutter
–

Needle

CY×7 #28

Oiling

by hand ・ Oiler
Oil
Machine oil #10
weight
50.0kg
Feature
Sewing head for repair of jute bag
Related Machines
TD-5、Table setting
Single Needle, No Feed, Cylinder Bed, Heavy Duty Lock Stitch Machine for darning and patching broken bags such as jute, hessian or gunny. also available to use for darning tents, sheets and tubular products. No feed mechanism, free movement of the work by hand. The Work plate is available by special order.
Populaire onderdelen voor de DD5