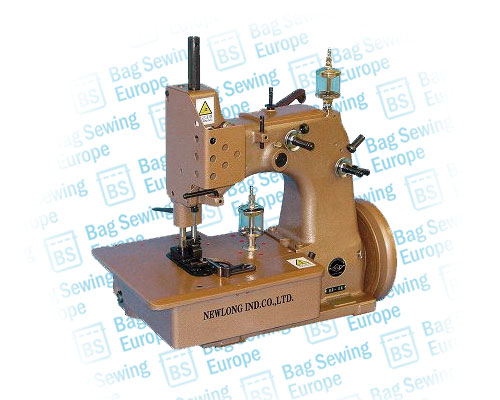 Newlong HR-4A/HR-4B (carpet overedging machine head). Single needle, Plain Feed, Flat Bed, Three Thread Overseaming Stitch Machine for overedging carpets, rugs, etc (HR-4A). Model HR-4B is designed for two thread overseaming stitch. Curved line sewing and small circles are available by HR-4AC and HR-4BC. Extra heavy duty machine designed especially for overedging very thick carpets with wide overseam width upto 12mm.
Click on the photo's for an enlargement
Model
HR-4A
HR-4B
HR-4AC
HR-4N
Max.
Speed*
1,800rpm
800rpm

Seam

Decoration sewing(505)
Volume sewing(502)
Curve sewing(505)
Overseaming
stitch
Stitch
Width
3.5-6mm
6.5-15mm
Bag
Material
Carpet ・ Automobile carpet
Fishing netSport net
Thickness
Jute bag 12mm
The diameter of a rope φ12
Cutter

Overseaming

width 12mm

Overseaming

width 10mm
–

Needle

SG-H28 #26
DR-G94 #27
DR-H32 #32

Oiling

by hand ・ Oiler
Oil
Machine oil #10
weight
34.0kg
36.0kg
Feature
Triple thread
Double thread
Triple threadAutomobile carpet
Triple threadFishing netSport net
Related Machines
TH-4A、Table setting
TH-4B、Table setting
TH-4AC、Table setting
TH-4N、Table setting
*depending on sewing material and operation.
Maquina Cabezal Ribeteador para Alfombras. Una sola aguja , alimentacion sencilla, cama plana, puntada tipo ribte de tres hilos para ribetear alfombras, tapetes etc (HR-4A). HR-4B diseñada para ribeteado de dos hilos. Ribeteado curvo y en pequeños circulos disponibles con las maquinas HR – 4AC y HR – 4BC.
Estas maquinas fueron diseñadas para trabajos muy pesados especialmente para ribetear alfombras muy gruesas con un ribeteado de puntada ancha de hasta 12mm de ancho.
Extensa area de alimentacion para coser alfombras con espalda de goma o plastico sin dañarlas. Puede oiperar con distintos tipos y espesor de hilado.La maquina es angulada para facilitar la costura de piezas grandes de alfombra. Costura con grabados y pequeños circulos disponibles reemplazando el prensa tela y la guia. Esta maquina provve un ribeteadode primera calidad con un ancho de 12mm.