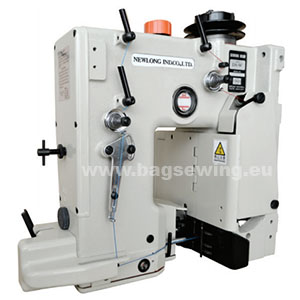 The Newlong Industrial DS-9A main feature is the mechanically operated continuously running thread cutter. No compressed air or PLC  is needed. Machine can run continuesly in a simple setup or with a foot operated switch (Pedal)
Usage of Newlong DS-9A
This machine is ideal for operating with an operator that pushes the thread into the cutter. The 2 enclosed oil baths make contamination from the machine to the material and from the material to the machine to a minimum.
Single-needle, Two-thread double locked chainstitch machine for Plain Closing Only, equipped with mechanically operated continuously running thread cutter.
Features:
Sewing speed up to 2700 rpm
Robust Square Design
2x Enclosed Oil bath
Stitch width has a range of 7 – 11.5 mm
Standard needle is DR-H30 #26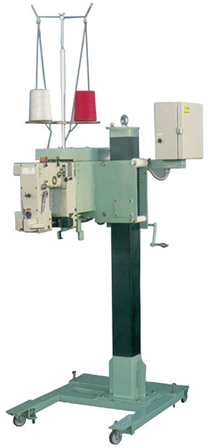 Optional feature:
A mechanical thread pusher 305301A  is optional available. After the bag has left the machine, it wil be push the thread into the mechanical operated thread cutter. Ideal if the machine is continuesly running. This way the operator does not have to deal with cutting the thread.