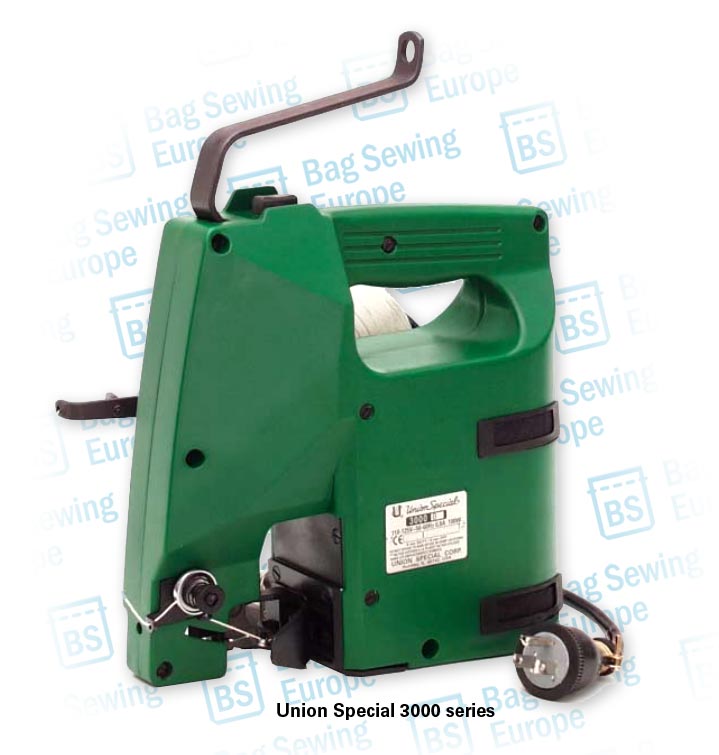 The Union Special 2000 and the Union Special 3000 are now replaced by the Union Special 3100.
3000A – Portable Single Thread Bag Closing Machine
Single Thread Plain Feed Machine with Built-In Thread Chain Cutter
The 3000B Portable Bag Closer  is a light weight, well balanced machine that fits perfectly in an operator's hand. It's designed for closing bags made of jute, cotton, linen, paper, or plastic (PP).
The CE-approved direct drive 220V motor is fan cooled, with a 16 foot (5 meter) power cord. A fiberglass-reinforced housing and dustproof, permanently lubricated ball bearings make the 3000 series a sturdy and durable work tool.
An optional top lock spring balancer (Part 90191M1) is available for suspension operation.
We also offer alternative Spring Balancers. Click here
Common Specifications:
Sewing Speed 1500-1900 SPM*
Stitch Length 3 SPI
Sewing Capacity 3/16″ (12 plies of paper)
Stitch/Seam Type 101 SSa-1
built in Thread chain cutter
Housing for electric motor and handle made of ABS plastic Lower Feed
Needle 9858GS200/080
Weight 8.4 lbs / 3.4 Kg / 7,5 pounds
Electrical Specifications 220-240v 50/60hz  with earth ground
Also available:
3000A Single-thread, 220-240v, 50/60Hz. protection class I (with Ground Wire)
3000B Single-thread , 110-125V, 50/60Hz. protection class I (with Ground Wire)
3000M Single-thread, 12V DC, Protection class III (safety extra low voltage
Threading Diagram Union Special 3000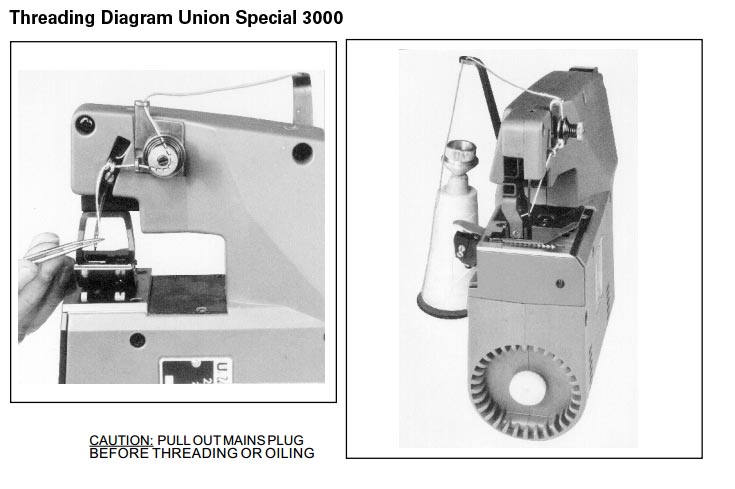 Simular Machines (Single Thread 101 stitch):