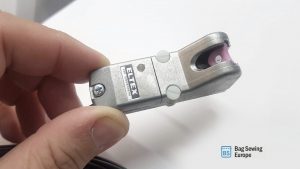 The UPG is a small, inexpensive, general purpose yarn break detector in a robust metal housing.
Optocoupler output suitable for PLC or other electronic control devices.
The ceramic sensor part can be used either as a closed eyelet or as an open bar.
Several detectors can be connected in parallel.
Modular connector for quick connection.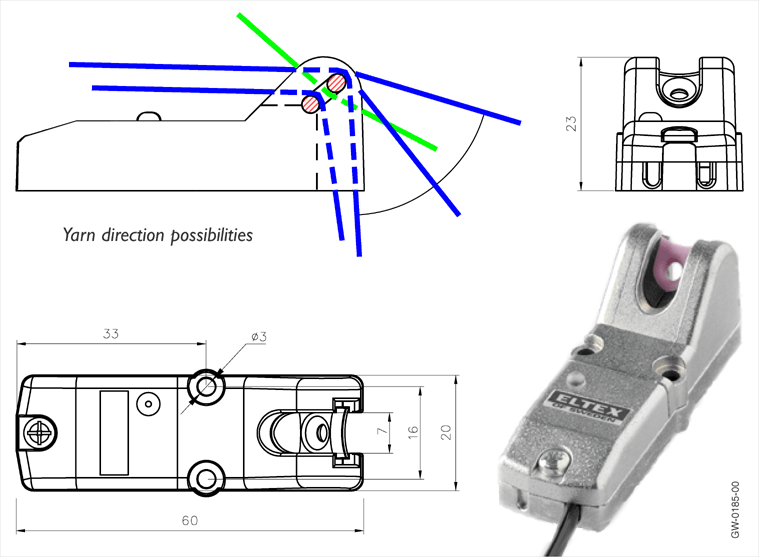 USAGE OF THE 16730 THREAD BREAK DETECTOR
Winders
Spinning machines
Twisters
Texturing machines
General Sewing machines (Automation)
Bag Closer Sewing Machines 
Covering machines
Yarn preparation machines
Double/multiple picks on airjet
weaving machine
How does it work?
The output reflects the movement of the yarn. When the yarn is moving, the optocoupler is inactive. When the yarn is not moving, the optocoupler is active. The LED is on when the yarn is moving. The detector is supplied with cable and a 6/4 modular plug connector. Many thread detectors can be connected in parallel. The detector is protected against wrong polarity on power supply.
Specifications
Sensing part: Made our of Aluminium oxide ceramic, with a 3 mm diameter closedeyelet and a 7 mm wide bar.
Output: The optocoupler is active when yarn is not moving.
Sensitivity: setting The sensitivity can be adjusted with a potentiometer under the lid by removing the screw.
Eltex Thread Break detector Made in the European Union, Sold all over the world.
Small and inexpensive reliable Swedish technology (Made in Ireland)
The Eltex UPG thread break detector 16370 has a 3,50 meter cable attached to it.
The Eltex 16370 Thread break detector is a small yet highly advanced piezoelectric device. Availability from Bag Sewing Europe: from stock or usually a couple of days.