Only available  in Holland, Belgium and Parts of Germany.
Bag Sewing Europe programmeert voor haar klanten ook betaalbare PLC oplossingen om diverse componenten samen te laten werken in een verpakkingslijn van zakken-naaimachines of andersoortige machines. Denk aan: Start stop, infeeder, lopende band, snijden van draad en crepe tape en nog veel meer. Hiervoor kunnen diverse elementen worden ingezet. Denk aan een photo eye, infeeder en een draadbreuk detector.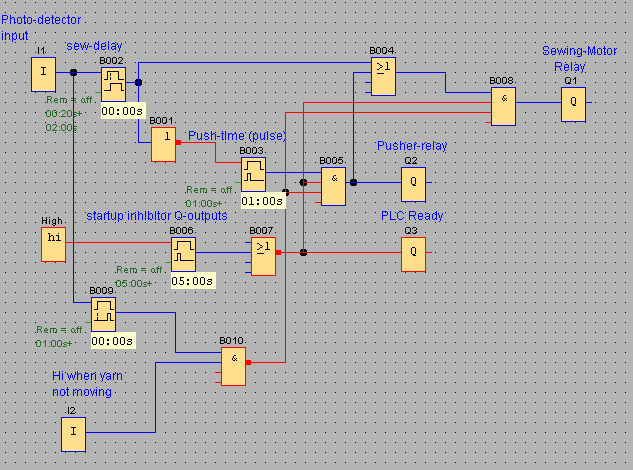 Synchroniseer onder andere:
Infeeder aan/uit
Naaimachine hoofd  aan/uit +  timing
Timing van het snijden draad + Crepe Tape
Timing van de lopende band (Start/Stop)
Bij draadbreuk systeem stoppen van het complete systeem + Alarm
Besturing diverse Pneumatiek componenten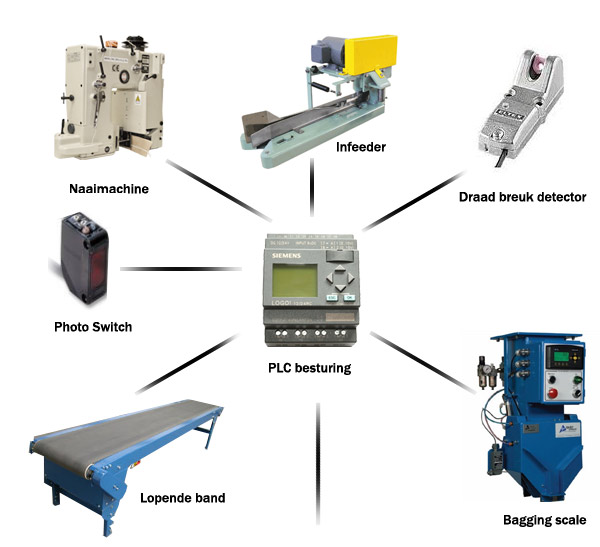 Wat is een PLC?
Een programmable logic controller (PLC, programmeerbare logische eenheid) is een elektronisch apparaat met een microprocessor dat op basis van de informatie op zijn diverse ingangen, zijn uitgangen aanstuurt.
In de industrie worden machines over het algemeen aangestuurd met PLC's en die zijn daarmee een belangrijk onderdeel in de automatisering. Hoe de PLC zijn gegevens precies inleest, hangt af van de geïnstalleerde interfacekaarten en van de veldbusnetwerken waarlangs verschillende apparaten met elkaar gegevens uitwisselen.