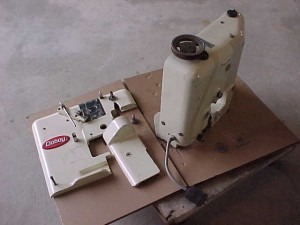 On this page you will find all information about the Doboy D95, D97 Sewing Machine. The Doboy Sewing Machines (USA) are our of production and not available anymore (with the excpetion of some refusbished parts and machine). Supply of  Parts is drying up. The machine that is simular to the Doboy is is the DS-11 series with Swinging Needles.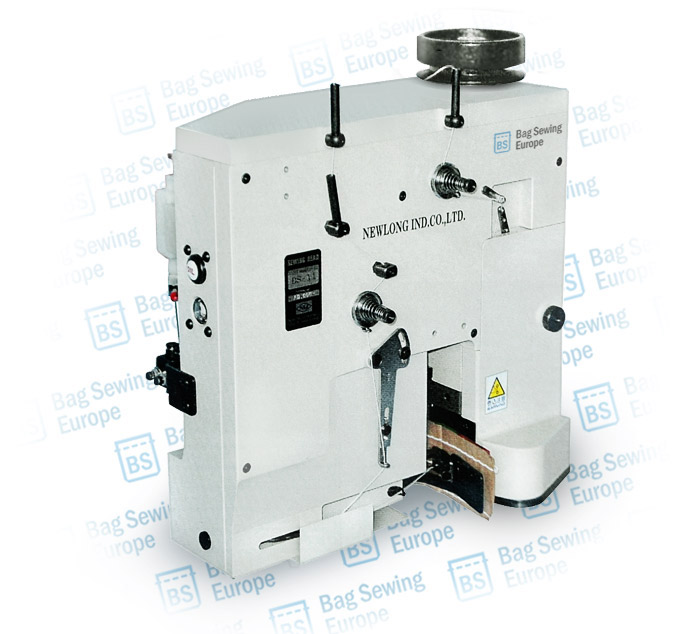 The Doboy D-95A sewing head utilizes a unique "swinging needle" design to securely sew bag tops (Paper, PP)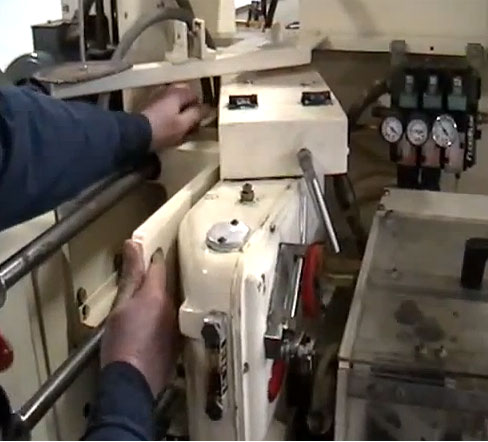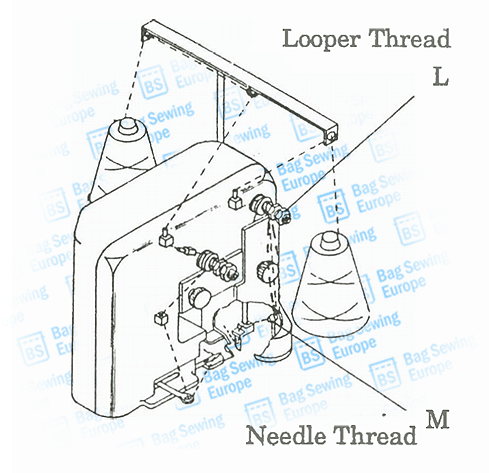 Doboy historie (Dutch)
De historie van Doboy begint meer dan honderd jaar geleden, in 1856 toen een houthandel werd gestart op de oever van de Willow River in Western Wisconcin.
Een waterwiel werd geïnstalleerd om de energie van de snelstromende rivier te kunnen benutten. Later werd ook een windmolen geïnstalleerd om korenbloem te verwerken door O.H. Mosher, W.F. McNally en M.H. McNally in 1883. Het bedrijf werd erg succesvol in de productie van hun eigen merk ontbijtproducten. De zakken waar deze cereals in verpakt werden, werden dichtgeseald met een bandsealer.
Deze sealer bleef echter voortdurend kapotgaan en twee medewerkers van het bedrijf namen de taak op zich om een betere bandsealmachine te produceren en zij slaagden daar uitstekend in. De eerste "Doughboy" (letterlijk vertaald deegjongen ofwel bakkersknecht) bandsealer werd commercieel verkocht in 1946. Na diverse naamsveranderingen en veranderingen in de spelling van de merknaam is de onderneming vandaag de dag bekend onder de naam Doboy Inc. in Amerika.
In Europa had Doboy een aantal jaren als Doboy Europa een aantal zelfstandige vestigingen in Duitsland, Spanje en in Engeland.
Na de verkoop van de onderneming aan een aantal verschillende multinationals is na verloop van tijd de onderneming in Spanje overgenomen door de toenmalige directeur en particulier bezit geworden en is de vestiging van Doboy in Duitsland overgenomen door de directie van Meypack Verpackungsmaschinen GmbH.
Doboy Inc. in Amerika en de Europese Doboy vestiging zijn inmiddels allebei onderdeel geworden van Robert Bosch Packaging.
Bag Sewing europe  levert de machines uit het leveringprogramma van de beide Doboy vestigingen. Veel van de Amerikaanse machines worden inmiddels metrisch uitgevoerd en worden uiteraard van een CE normering voorzien. Zeker gezien de koers van de Amerikaanse dollar kan de aanschaf van een machine die gebouwd is door Doboy in Amerika voor uw bedrijf interessant zijn. Bag Sewing Europe  informeert u graag over de mogelijkheden en toepassingen van de verschillende zakkensluitmachines uit ons leveringsprogramma.