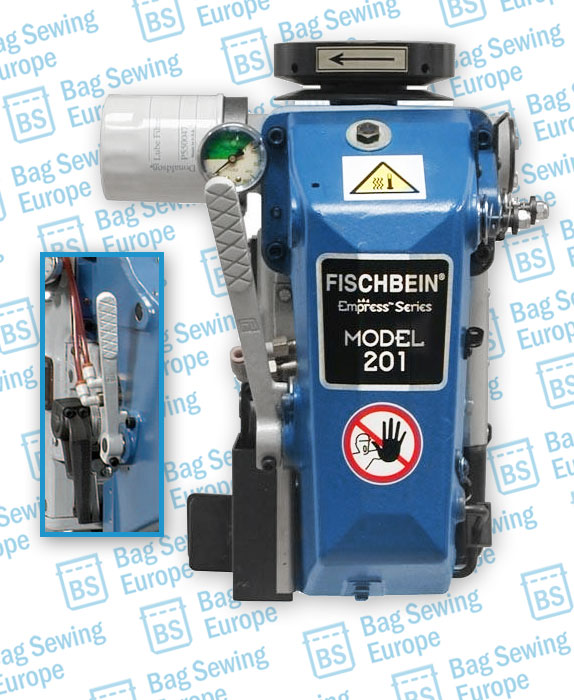 Specifications:
System component
Tape sewn closure
Scissor type tape cutter
Standard 2.5 stitches/inch
Type 401 2- thread stitch
55 to 75 feet per minute
Fischbein Empress 201 High Speed Bag Closer for use with Crepe tape pedestal systems. You can close bags from 300 bags per hours and up.
High speed tape sew Fischbein Empress 201  Sewing head is a durable machine made with craftsmanship. Constructed from heavy-duty metal components, the versatile and compact Empress sewing head produces a secure, attractive crepe tape sewn closure on multi-wall and laminated woven polypropylene bags in the most demanding bag closing environments. Fischbein's pressurized, self-lubricating system protects moving parts and ensures maximum productivity with low maintenance.
The Empress sewing head's precision rotational parts allow for a very smooth, adjustable operating speed from 55 to 75 linear feet per minute. Our high speed tape sew model creates a two thread, double lock stitch adjustable from 2 to 3.5 inches per inch. A wide variety of accessories are available for Fischbein sewing heads. Among them are various mounting pedestals, power infeed systems, a full range of conveyors, bag-top folders, thread and tape-break detectors, bag coders, and photoelectric controls for system integration. For maximum performance use Fischbein sewing thread and genuine Fischbein parts.